Starflower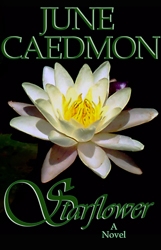 The dark waters that swallowed Sarah Climmer's parents remain silent. Hiding not only clues to their murder but also the secret they died to protect. A secret the murderer believes Sarah now knows. A secret he'll do anything to control.
Daniel Broadfoot knows well the evils that lurk among his people. Evils that threaten to destroy Sarah and her grandfather. He doesn't need Sarah's trust to do his job. But he'll need it to win her heart.
As the murderer's bizarre plan unfolds, both Daniel and Sarah come face to face with a demon from their past. Will their faith stand against the evil that drives one man's quest for power? Or will Sarah's love for Daniel and his people be enough to save them all?